FREQUENTLY ASKED QUESTIONS!
If you have a question and you can't find the answer below, please contact us and we will be happy to assist you!
The best and most reliable way to reach us is via email. We have access to emails 24/7, and will respond quickly. If you call our phone number 1-877-772-0022 and there is no answer, please leave a message: we are receiving all messages, and will get back to you.
Do you have questions about our new ROLL LABELS? Click here
The FAQ's below refer only to our 3M vinyl stickers.
CAN I SEE SAMPLES BEFORE I BUY?
Yes! Head here for a sample pack
WHAT IS THE DIFFERENCE BETWEEN DIE CUT (Classic Cut) AND KISS CUT?
Kiss cut (top pic) is only cut to the backing paper around the design, allowing for extra material on the edge. This can make it easier to peel the stickers from the backing. Die cut is cut through the backing paper all the way around the design. The peeled sticker is essentially the same.
WHAT KIND OF MATERIAL DO YOU USE FOR STICKERS?
We use 3M Scotchcal white vinyl in matte or glossy. We also have clear vinyl in matte or glossy. We also have reflective vinyl. All material is weather/UV proof and proven in Canadian winters! Click here for material specs and warranty information.
Hologram material is now available! It is 6mil, outdoor quality, and full of shiny rainbow goodness!
ARE YOUR STICKERS DISHWASHER AND MICROWAVE PROOF?
Yes.
CAN I WRITE ON YOUR STICKERS WITH PERMANENT MARKER?
Yes.
WHAT KIND OF MACHINE DO YOU USE?
We use a large format, 54" HP printer.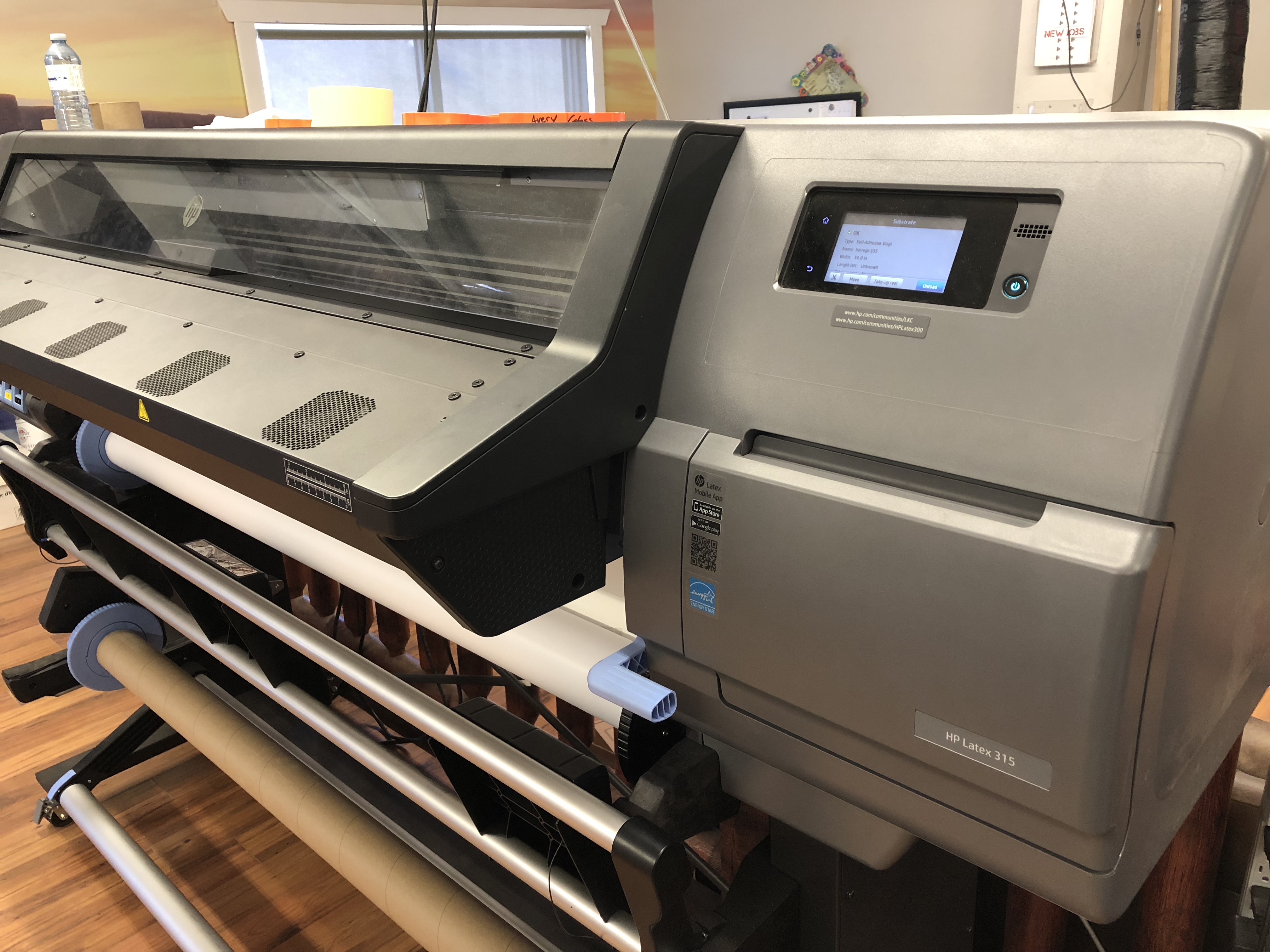 WHAT KIND OF INK DO YOU USE?
We care about our health, your health, and the health of the environment, so we use HP Latex ink that is tested and proven to be the safest for all. It is scratch/abrasion resistant, UV/weather resistant, and even withstands some types of chemicals. Click here for more information on the durability of our ink.
DO YOU LAMINATE?
Not normally as there is no need with our quality ink and vinyl. If there is a need for increased durability, scratch resistance or solvent spillage, we can laminate. There is an extra charge.
DO YOU USE DIES FOR DIE CUTTING?
No, we use a cutter. It saves charging a tooling fee.
DO YOU GUARANTEE COLOUR MATCHING?
No, we cannot. The only way to achieve this would be to send physical samples.
HOW DO I INDICATE A CUT LINE ON MY ARTWORK?
A lime green vector line is the best.
CAN I REQUEST A CHANGE AFTER I APPROVE MY PROOF?
No. After proof approval, it is immediately sent to print.
*It is important to print your proof, and look at it closely. There is a lot of room for error - and human error may occur. No one knows your logo or art like you do!
WHAT IF I MISS THE EMAILS AND DON'T APPROVE MY PROOF?
We will try our best to contact you if we do not receive an approval. If, after 7 days, we are unable to contact you, we will consider the proof approved and continue with printing. If there is something questionable or concerns that we are unable to print, we will give a refund.
WHAT KIND OF FILE DO I NEED TO SEND?
We can open any file formats (.ai .cdr .png .jpg .pdf) Please keep in mind that vector files will always print the best.
HOW DO I INCREASE THE RESOLUTION OF MY ARTWORK?
You cannot increase the resolution of your artwork. The lowest resolution we accept is 72 dpi - the higher the better to avoid pixelation. Vector is certainly the best.
DO I HAVE TO USE YOUR TEMPLATES?
Not at all. Just let us know what you're looking for in the "Special Instructions" section and we can help you out. If you would like to use the templates, please remove the template prior to sending. If it's a vector file, we can remove the template.
HOW DO I SET UP MY ARTWORK FOR FULL BLEED PRINTING?
Allow the colour to bleed 1/8 inch outside the cutline. Please specify if you would like full bleed printing.
CAN YOU PRINT RGB/PANTONE COLOURS?
Our printer prints using CMYK (Cyan, Magenta, Yellow, Black) ink, therefore RGB (Red, Green, Blue) and Pantone (universal colour guideline) colours will be converted to CMYK. This may cause slight colour shifts. When switching, we will get as close as possible but cannot guarantee a complete colour match. Check out this blog for more information about Pantone/RGB/CMYK
WHY AM I UNABLE TO UPLOAD ARTWORK?
If your artwork is over 500MB, there may be issues. Please let us know if there's a problem.
HOW DO I ORDER STICKERS WITHOUT A WHITE BORDER?
Please tell us how thick you want the border to be, or whether you want a 'full bleed' in the "Special Instructions" section when you order.
DO I NEED TO OUTLINE MY FONTS?
Yes, please convert them to lines. Otherwise, we may not have the font that is in your file and it will cause a substitution of fonts.
CAN YOU RESIZE MY ARTWORK FOR ME?
Yes. Vector artwork can be resized to infinity. Non-vector artwork can be resized as long as the resolution is high enough.
IS IT POSSIBLE TO UPDATE ARTWORK I JUST SUBMITTED?
Yes, because we will send a proof prior to printing.
CAN YOU ADD TEXT TO MY STICKER DESIGN?
We can try our best to accommodate text. We will let you know if we cannot do it.
CAN YOU PRINT NEON or FOIL or METALLIC COLOURS?
No.
WHERE DO YOU SHIP FROM? WHAT SHIPPING COMPANY DO YOU USE?
Invermere, BC, Canada. We use Canada Post. See shipping times here.
DO YOU PRINT WHITE INK?
No, not on our vinyl stickers, but we do on our roll labels.
DO YOU PRINT ON CLEAR VINYL?
Yes, however, when ordering clear vinyl stickers: our ink does not print opaque on clear vinyl. It is not an issue when the stickers are placed on a light coloured background, but will be slightly transparent on a dark background. If this is not the look you're going for, we can change it to matte or glossy white vinyl at no charge. Why is it transparent? Because we don't print white ink, so there is no white background for the ink to stand out on.
We are able to print white ink on roll labels, therefore they have the option of being opaque on clear.
CAN YOU PRINT ON THE BACK OF MY STICKERS?
No.
CAN YOU SPLIT THE PAPER BACKING ON MY STICKERS?
No, but once you get the hang of peeling vinyl stickers, they won't cause you a problem. Use the pad of your thumb or finger to slide on the edge to peel the vinyl back. Vinyl is sturdy - don't be afraid to get rough! This video might help:
WILL YOUR STICKERS ADHERE TO FABRIC?
Yes, but they are not designed for that and will eventually fall off.
WHAT IS THE CORNER RADIUS FOR YOUR ROUNDED CORNER STICKERS?
0.15 inch on most of our templates, but we can make it more or less.
HOW DO YOU DETERMINE THE DIMENSIONS OF A DIE CUT STICKER?
Put a box around the your artwork where the cut line would be and that is what we would consider the print size.
DO YOU ALLOW INTERNAL CUTS?
Yes. Our machine can have difficulties when trying to die cut very small shapes, therefore we may offer the option of kiss cut on very intricate cuts, or very small stickers.
IS THERE BRANDING ON THE BACK OF THE STICKERS?
No - the backing is plain white.
WHAT IS THE THICKNESS OF YOUR STICKERS?
The mil (thickness measurement of vinyl) is 2 mil.
CAN YOU PRINT QR CODE STICKERS?
Yes. They work best if they are larger than 2"x2".
DO YOU SELL WEEDED TRANSFER STICKERS OR VINYL CUT STICKERS?
Not anymore.
HOW DO I SET UP A STICKER SHEET?
You can put as many kiss cut stickers as you would like onto a sticker sheet, as long as you provide a vector cut line for each.
CAN I ORDER CUSTOM SIZE STICKERS?
Message us here with your sizes, quantities and designs, and we can get you a quote.
WHAT CURRENCY DO YOU USE?
Canadian dollars.
CAN I SEE A PROOF BEFORE ORDERING?
Yes. We send proofs prior to printing all stickers. We will send up to 3 proofs per decal order at no charge.
DO I NEED TO APPROVE MY PROOF WHEN REORDERING?
Yes. It takes just a few minutes and can save a lot of confusion.
CAN I MODIFY MY QUANTITY DURING PROOFING?
Yes, anything can be changed during the proofing process.
WHAT IF MY STICKERS ARE LATE?
We guarantee that our vinyl stickers will be produced within 3 DAYS OR THEY ARE FREE! (This guarantee only applies to vinyl stickers, not inclusive of any other products found on the website.) We cannot guarantee the delivery time of the stickers, but we can find where they are using tracking numbers provided from Canada Post.
HOW DO YOU REMOVE YOUR STICKERS?
Attempt using a hairdryer to loosen the adhesive. If glue still remains, soak area with rubbing alcohol for 5 minutes and it should wipe off with paper towel.
DO YOU PRINT STICKERS ON A ROLL?
Yes. Click here for roll stickers.
DO YOU MAKE PAPER STICKERS?

Yes. Click here for paper stickers (they are roll labels).
DO YOU PRINT FULL COLOUR?
We can print full colour, high resolution.
WILL YOU PRINT COPYRIGHTED MATERIAL?
No, unless the copyright is owned by the person placing the order. We do not take responsibility for copyright infringements.
CAN YOU HELP ME DESIGN MY STICKER?
Yes, but there may be a surcharge. Send us an email with as much detail as possible and we can get you a quote.
CAN I GET A QUOTE?
Email us with your sizes, shapes and quantities and we'll get you a quote within 24 business hours.
CAN I SUBSTITUTE MATERIALS?
For example: you want to order 1000 stickers, but want 500 matte and 500 glossy. YES we can do that! You can substitute clear, matte and glossy, (but not reflective) at no extra charge.
CAN I CHANGE THE COLOUR OF MY STICKER AND STILL GET A MULTIPLE DEAL?

For example: you have a sticker that you want to order 100 of, but would like 25 green, 25 full colour, 25 purple and 25 black. As long as the cut line is the same for all designs, we can do this. We have to charge for separate orders when we have to manipulate or apply different cut lines. Contact us for any questions regarding this and we can see what we can do.
DO YOU HELP ADJUST THE SIZES DURING THE PROOFING PHASE?
Do you have an odd shape sticker? Are you worried about your logo getting "stretched" or it doesn't fit inside this measurement? We will help you adjust the sizing of your sticker without distorting the image.
CAN I USE YOUR STICKERS TO LABEL MY FOOD PRODUCTS?
Yes, but not directly on food.
Are you looking for wet-strength labels, freezer safe labels, removable adhesive labels? Check out our roll labels.